Your Wedding Just Got Cooler
We love perfoming for wedding receptions and we do it better than anyone else!
REDFINE THE WEDDING EXPERIENCE!
Want your wedding reception to be the one your friends and family remember forever?
Then book dueling pianos for your entertainment!
Your wedding guests will have the time of their lives while helping you create amazing memories!
HOW IT WORKS
We take care of all the music and audio for your wedding reception. If your ceremony is in the same location we can provide sound and music for that as well. (optional)
All weddings are not the same, however in our experience many weddings follow the same formula. First there's a ceremony – you get married! Then there's a party – the reception.
Most wedding receptions can be broken down into five parts.
Cocktail Hour – the 1st hour of the reception where your guests will mingle and enjoy a drink.
Bridal Party Introductions – This is huge! It's your grand entrance as the guest of honor to your reception!
Dinner – You and your guests enjoy a gourmet dinner while mongling continues.
Dancing – You have your first dance with your new spouse, specilaty dances (father daughter dance, mother son dance, etc.) and your guests join you for dancing and partying.
The send off – also known as the kiss goodnight at the end of your reception. One last chance for your guests to cheer you on and congratulate you on your big day!
WE COVER ALL THE MUSIC YOU NEED!
For cocktail and dinner hours, and for introductions and specilaty dances, we provide music through our DJ service which comes with all of our wedding packages. No matter how long your reception is, we provide enough music for whatever you need.
We also provide, ta da! DUELING PIANOS! Each wedding package comes with at least 2-3 hours of live dueling piano entertainment!
Packages
Included with every package is – at least- the following:
Two Matching Baby Grand Piano Shells
Two  Piano Entertainers
HD Sound System
Request Slips and Pens for Your Guests
One Hour Perfromance Time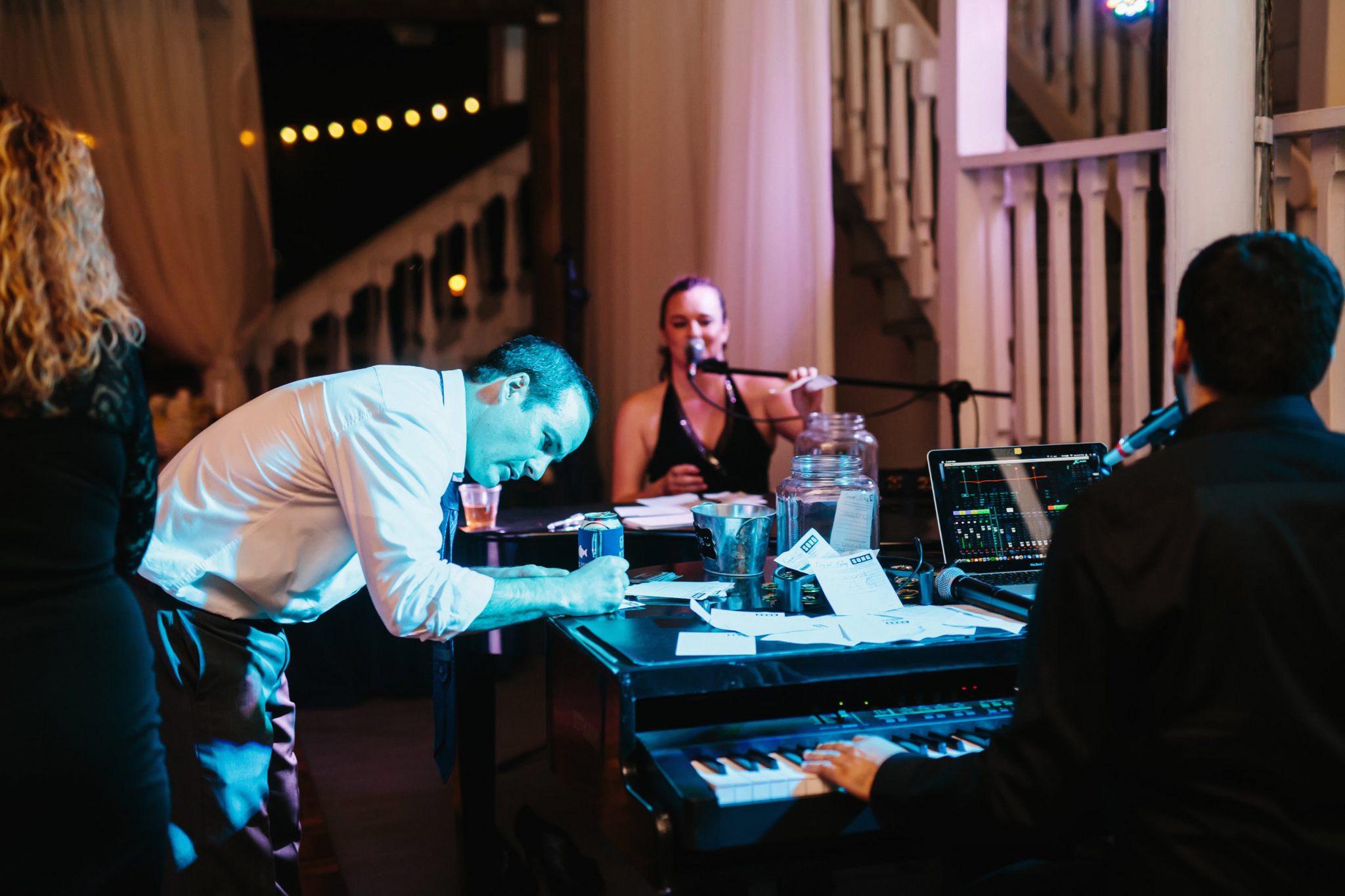 CHOOSE YOUR PACKAGE
All packages can be customized to matrch your needs and preferences. Wedding ceremony production can be added as well.
EBONY
Two Piano Players

Two Hours of Live Music
IVORY
Two Piano Players

Drummer

Three Hours of Live Music
Three Piano Players

Drummer

Three Hours of Live Music
PLATINUM
Four Piano Players

Five Hours of Live Music
TITANIUM
Four Piano Players

Guitar

Bass

Drums

5 hours of live music
Most clients we perform for choose to customize their dueling pianos experience by adding one or more additional items. Ask us how you can add one or more of these to customize your experience.
Your performance can include:
Additional Performance Hours
Dance Floor and Stage Lighting
DJ Service for weddings and corporate events
Uplighting
Dance Floor Rental
Drummer added to the band
Additional Piano Players
Our 4 Grands 8 Hands experience (4 piano players at once)
Considering a photo booth for your wedding?
We've got something better….for less money.
Check out our UPshow Interactive Social Screen!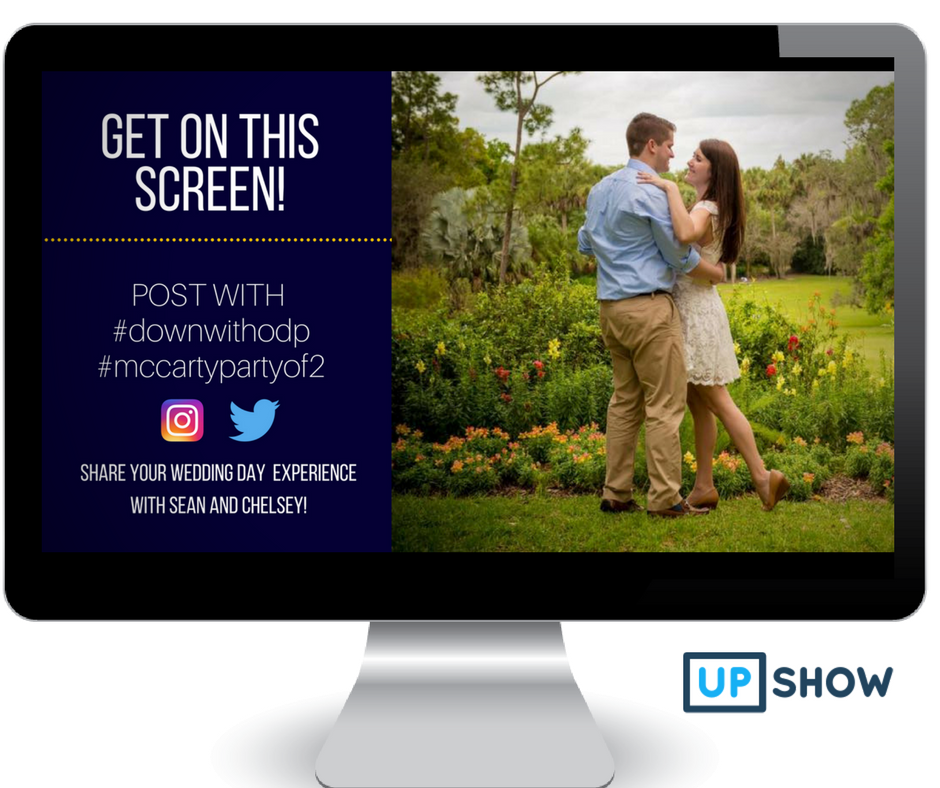 Need uplights for your wedding venue?
We've got 'em.
And you can choose your favorite color!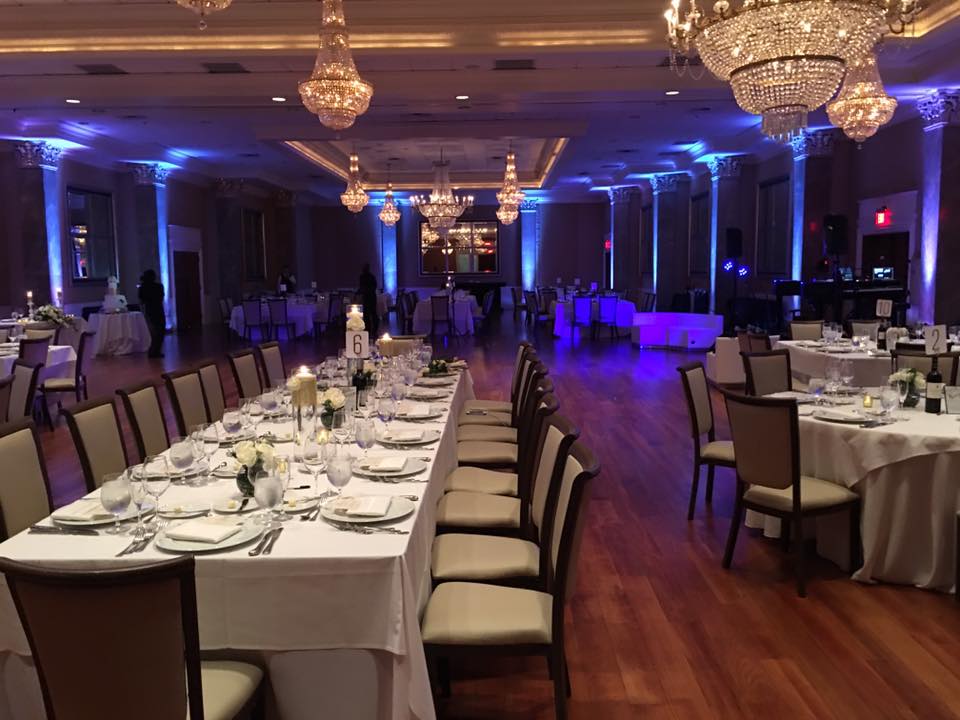 How The Booking Process Works
We are excited to perform for your wedding or event. So you may be asking "how does it work?"
Our 6 step booking process is simple.
Everything that happens with booking with us happens completely online. Quotes, contracts and invoices are emailed to you for your records. You never have to guess what happens next. Our system makes it easy and efficient to book with us.
Request a consultation. (Click here to get started. There's no obligation.)
We will contact you to discuss the details and needs of your event.
We will prepare and send you an official quote.
If you like what you see, you simply accept the quote.
You will then be directed to sign a contact (online) by typing your name.
Make a deposit payment (25%). Then balances are paid 7 days prior to your event.
Financing
We also offer interest free financing for up to 12 months. We know booking your entertainment is an investment and can be a large undertaking. With our payment plans, you will be notified every month when it's time to make a payment.
PAYMENT METHODS ACCEPTED
We accept credit card and ACH (electronic checks) payments. You can choose your payment method at the time you pay your invoice.
PLEASE NOTE: All quotes are tax included. 
Ready To Book With Us?
If you are ready to book with us, you can simply click here to request a consultation, or click the button below to get started.
Questions or concerns?
We know that your wedding or event is a major investment. We know it's your one day to get everything right. We want to assure you that we have your back. If you have any questions or concerns, please feel free to contact me 352-474-2667. We look forward to working with you.
Let's talk about your event!
Request a consultation and we will schedule a call with you.